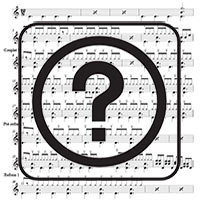 On Demand Score
You need a score? You like a song and you want to play the drums and better understand what is happening?
I can write the score for you ! How shall we do it?
How to do
=> Ask a custom drum score by clicking on ADD TO QUOTE.
==> Connect or Sign up.
===> Fill the form : Artist – Song – Mp3? – Cover?
====> If you have the mp3, upload it.
=====> After listening, I give you a time to do it and the price.
======> It's ok for you? Accept the quote and pay.
=======> You will receive the score by email in PDF format.
Pricing:
The transcription price start at 10€.
The price depends of the longer, difficulty and quality of the recording.
The MP3 file of the song must be provided, otherwise you'll need to purchase it at the iTunes Stores for 1,29€

Warning: call_user_func() expects parameter 1 to be a valid callback, no array or string given in /home/clients/def026e0102e2574253e3a0e828c0a10/webmusicschoolCOM/wp-content/themes/Webmusic/woocommerce/single-product/tabs/tabs.php on line 37